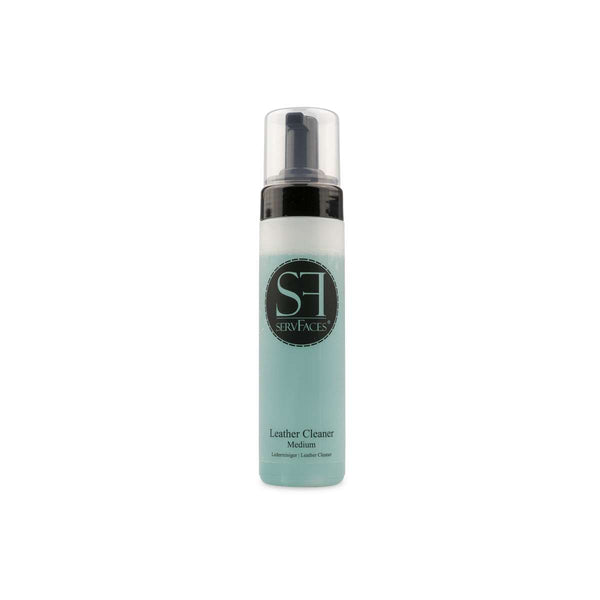 Zoom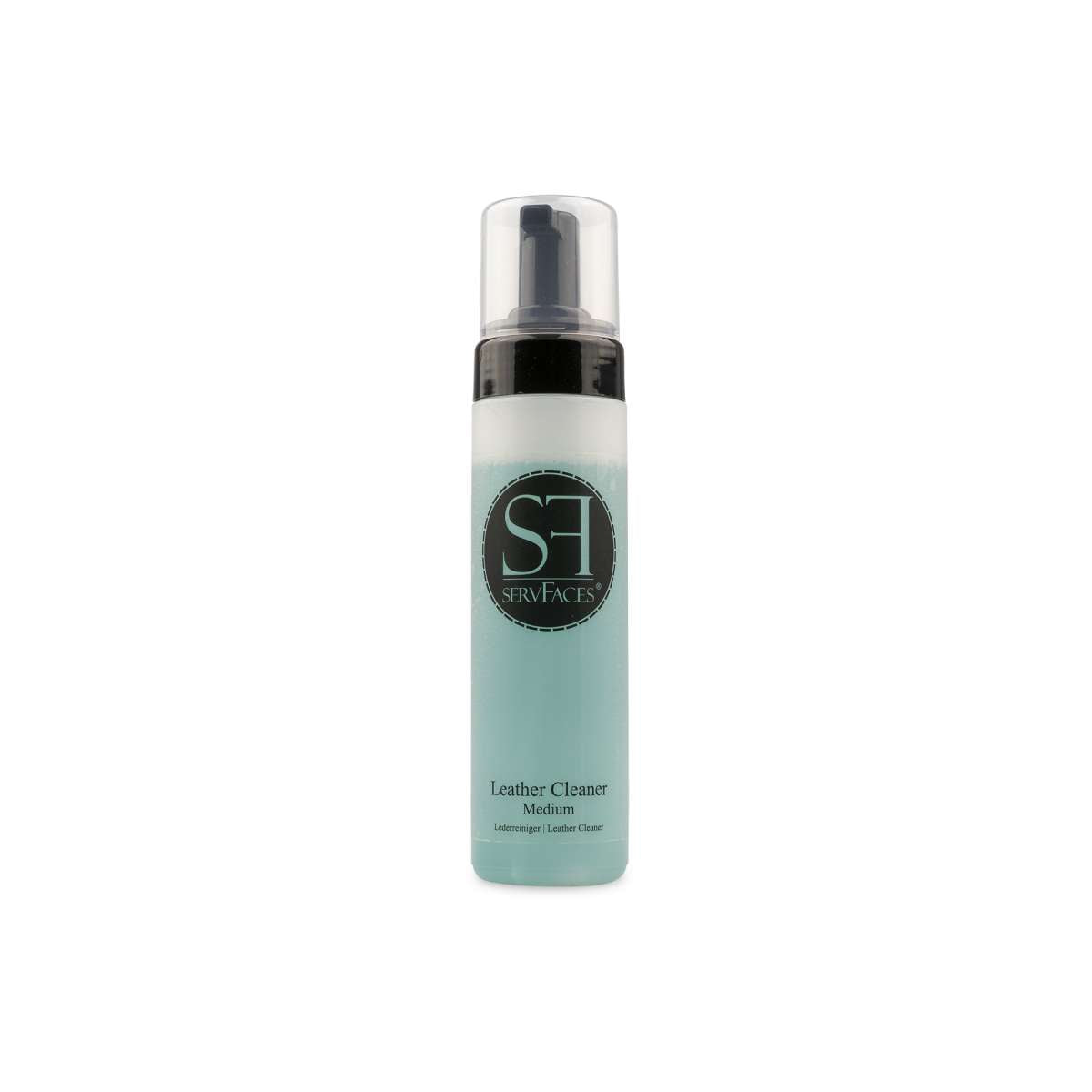 servFaces Leather Care System
Leather cleaning & care system
Leather is demanding. Improper care results in loss of the soft feel and a rough surface. servFaces Leather Care System is an all-round package containing cleaning and care products – because properly maintained leather gives long-term pleasure. 
Effective leather cleaning with servFaces Leather Cleaner Medium, Leather Cleaner Strong & Stain Remover 
A properly maintained leather surface is less susceptible to staining. If things go wrong from time to time, our leather cleaners in the Leather Care System line can help. Whether ink or jeans stains on white upholstery or deep-rooted grease stains, servFaces has cleaning specialists for any kind of stain.
Leather Cleaner Medium and Leather Cleaner Strong gently remove oil or greasy dirt from all clean aniline, semi-aniline and covered leather. They are ideal for removing minor water stains or visible patches caused by previous stain removal.
This effective cleaning foam is available in a practical foam dispenser bottle. The specific application considerably reduces consumption compared to liquid cleaners. Another advantage is the stability of the foam. The leather will not get too wet or not harden during drying. 
For dirt insoluble in water such as ink, permanent marker or similar, use our solvent-based special cleaner servFaces Stain Remover. Caution: These special cleaners can attack the leather surface and remove the color if applied with too great a pressure during the cleaning process!
Modern leather protection and care with servFaces Leather Cream
Nothing lasts forever, even the best leather impregnation. Wear and tear and dirt attack the material. Heavily stressed areas such as leather-upholstered furniture armrests, car interiors, bags or leather clothing need particularly good care. Sunlight and heat attack the natural oiliness. The leather becomes rough and brittle. servFaces Leather Cream renews protection of the leather using the latest impregnation technology. The highly effective oil replenishment formulation restores the lost suppleness and elasticity of the leather without clogging the pores.
Areas of application:
Moderately to heavily soiled areas on moderately to strongly pigmented smooth leather (car and furniture upholstery, bags, suitcases, clothing). Not suitable for: Nubuck, suede or rough suede leather
Properties:
Strong dirt dissolving power
Protects material 
Leaves no residues
Dull finish 
No change in surface characteristics (touch)
 

Application:

Leather Cleaner Medium and Leather Cleaner Strong: Rub the cleaning foam into the surface with a leather and interior brush, apply slight pressure and work in circular movements. Remove with a microfiber cloth afterwards. Work in small sections and do not let it dry.

Caution: Do not apply the product in direct sunlight and do not let it dry!

 

Application temperature: +10°C to +40°C

Storage temperature: +10°C to +20°C

Consumption: 10 – 15 ml per m²

Storage and shelf life: At least 12 months at ambient temperature in tightly sealed original container

Protect from direct sunlight and freezing temperatures!

<