Zoom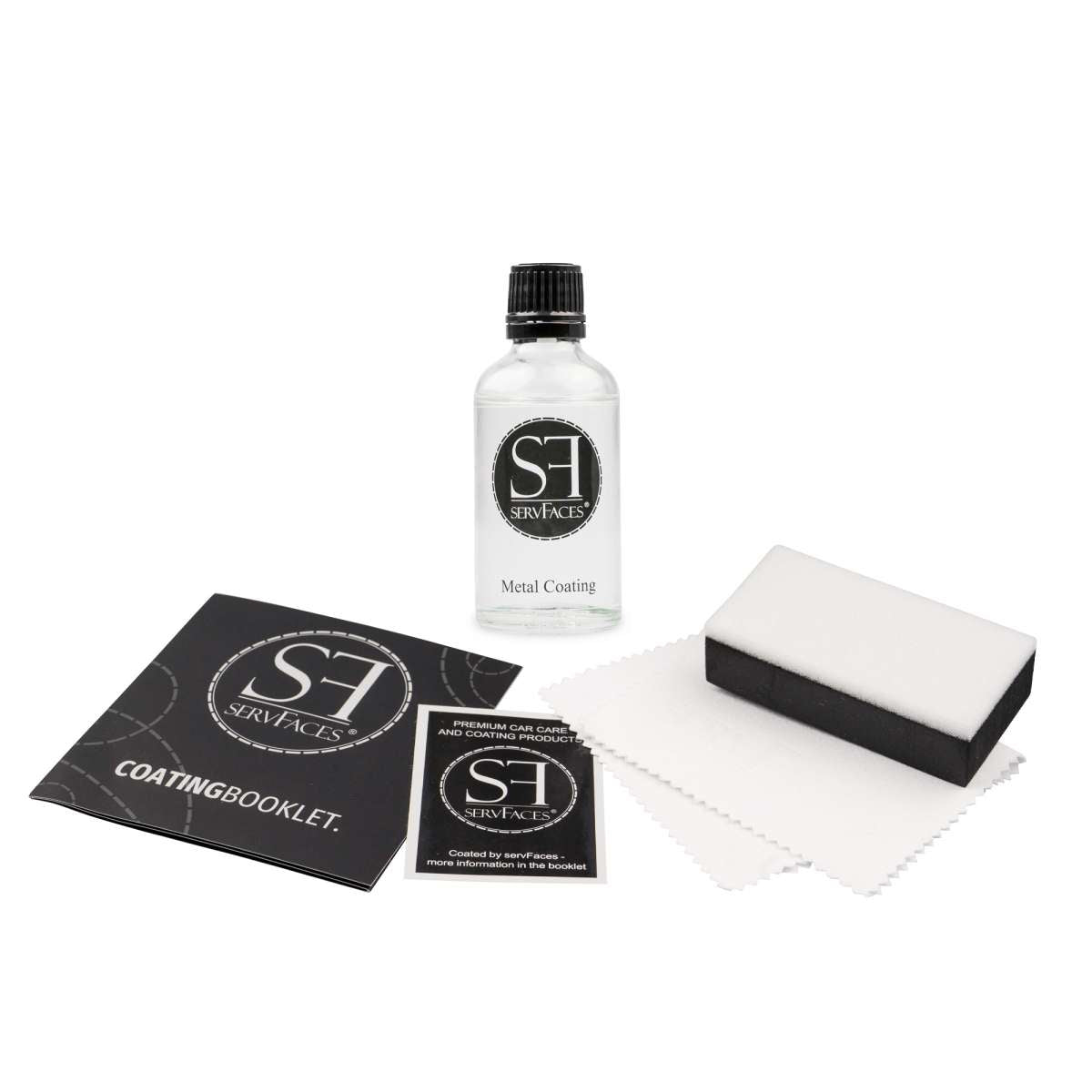 Metal Coating
Surface coating
The transparent and high-strength surface coating of the servFaces line is a diverse and unique quality product for a variety of metal surfaces such as copper, bronze, precious metals, non-ferrous metals, galvanized (zinc-plated) metals, stainless steel, ferrous metals and many more. It offers optimum protection for most diverse areas of application.
All-round talent for surface optimization
The highly-transparent coatings form a long-lasting protective layer resistant to scratches and dirt with minimum applied quantity. Hard-coated layers are suited especially to large-scale areas of application due to the low material consumption. Therefore, damage caused by resins, acids, salts, weather and mechanical impacts have no chance. Moreover, our high-strength hard-coated layers are exceptionally resistant to temperatures from +890° C to +1800°C (always according to the formulation). 
Fingerprints on stainless steel surfaces can be minimized by up to 90 % and removed with a wet cloth!
Nature Factor

Our goal is the development of high quality products that leave a positive long lasting impression, user friendly and safe to use and reduced impact on the environment. servFaces Metal Coating meets the requirements for food contacting articles and materials of the paragraphs 30 and 31 of the German Food, Article and Feed Law Book.
After curing, the coated surface does not pose any health risk and is allowed to get into contact with food.
This was confirmed by CBA GmbH with a certificate, that was issued on May 15, 2018. The complete certificate can be found in our shop under the tab Data sheets.
Areas of application:
Copper
Bronze
Precious metals
Non-ferrous metals
Galvanized (zinc-plated) metals
Stainless steel
Ferrous metals 
And many more 
Properties: 
Transparent, invisible, flexible and permanent long-lasting coating. 
Does not contain siloxane, fluorine, Teflon, wax, silicone or carcinogenic additives
UV and weather resistant
Saltwater-proof 
Anti-graffiti effects and protection from nearly all acids, bases and organic solvents
Resistant to temperatures from -50 °C to + 890 °C (briefly +1,090°C)
Resistant to chemicals (pH 2-13)
Non-flammable/non-corrosive
Increases hardness and scratch resistance, very high abrasion resistance
Corrosion protection up to 10 years or longer
Easy to clean
Reduces fingerprints by up to 90 %
Extends cleaning intervals and reduces cleaning and care costs
Technical explanations 
Metal Coating provides the following properties with a film thickness of 3 to 5 micrometers (film thickness depends on the application procedure).
Water-repellency of clean, empty, polished or painted surfaces (the surface must be free of silicone and grease. Suitable cleaning agents are servFaces Cleaner Ultima & Neutra).
Optimizing of the coated substrate's surface hardness. 
The coating has "self-healing" effects due to the unique manufacturing formulation (organic / inorganic components). No other coating system has this thermoelastic flow property. 
Even surfaces exposed to continuous stress of up to +1,050 °C can be successfully sealed thanks to the high proportion of inorganic matter. 
This is only a short list of what it can do.
Use:
The area to be treated should be clean and free of grease. The product can be applied on smooth surfaces with our applicator. You can remove any excess product with a microfiber cloth after a short reaction time of approx. 1 - 2 minutes. It is also optimal for use in a fine-spray pattern and rolling applications. To achieve the best results, the ambient temperature should be within the range of +5°C to +35°C. The product is dust-dry after 120 minutes. The product fully cures after approx. 6 - 8 days (depending on the temperature and air humidity). After curing, the coating is resistant to acids, alkaline solutions and solvents (pH 2 - 13).
Caution: Do not apply the product in direct sunlight and do not let it dry!
Lifetime:
The lifetime is 2 to 10 years, always according to the substrate, surface stress and film thickness 
Important:
Protect the surface after the treatment from dirt and moisture, as well as finger grease for at least 18 - 24 hours.
Curing time can be shortened by approx. 2 - 3 days using separate drying. 
The surface must not be exposed to any abrasion during curing!
<